In this guide, I will walk you through almost everything you need to know about makeup tips and ideas.
You will know all about applying and maintaining that look you want. When's the last time you ran into a woman who scared the breath out of you? How about having the feeling you've walked into a royal party because of how everyone else looked? Well, your makeup reveals you to the world.
I will walk you through everything you need to know:
Getting Started with Makeup
I'm assuming you've already decided you want to wear makeup. First things first – learn each type of makeup to know what, how and when to use it.
It is important to to know this basics:
Foundation or powder: which enhances consistency.
Concealer: – covers blemishes or dark circles especially around the eyes.
Eyeshadow and eyeliner: – they enhance the eyes.
Mascara: it defines the eyelashes while darkening them.
Blusher or blush: adds color to the cheekbones or cheeks.
Lipstick: adds color to the lips.
Pads, wipes, makeup brushes, among others: they are makeup application and removal tools.
Next:
1. Learn your skin color or tone.
This is a very important tip because it will help you to escape many makeup disasters.
When you buy the wrong color or product for your tone, regardless of its quality or look, it will give you a disastrous look. Ask a professional to tell you the right tone because friends will only give you personal perception, which sometimes differ.
Ask a professional to tell you the right tone because friends will only give you personal perception, which sometimes differ.
When buying makeup, take a friend or person whose makeup taste you trust. There is no need going with your cousin who wears a green lip color that scares everyone away during family functions. Get a trusted person that will not only give you an honest opinion about a particular color or look on you, but they will give you tips on buying the right products and colors. As a beginner, start with a simple natural look. Do not run to get that smoky eye because you saw a celebrity looking glamorous in it. Too much makeup may also make you look older or unnatural, especially since you do not know what works best for you.
2. Quick Makeup Quick Start
Apply a little powder on your face, Use clear mascara and add lip gloss to finish the look. You can also go a step further and use an eyeliner. However, use black eyeliner to remain on the safe side as other colors may make you look like a monster. Learn as much as you can. If you want to advance this look, read fashion and beauty magazines, watch YouTube channels and ask the help of professional makeup artists if you can access them.
They will help you to create more daring and appealing looks. Be patient with yourself. You may probably get it at the umpteenth time, but you will get that look you always desire. Ensure that you are comfortably sitting or standing when applying makeup. You need all the comfort you can get.
How to Get a Natural Look
You cannot get that natural look without preparing the palette. It is always important to first:
Wash
Tone
Moisturize the skin before applying any makeup.
Instead of using heavy foundation, you can even the skin by applying BB cream or a tinted moisturizer. You can also apply your makeup using sponges or finger tips rather than using brushes, as Mary Schook, a makeup artist in New York emphasizes.
This change allows you to gain a more natural look. It is also advisable to use a light-reflecting concealer pen on red or dark areas. Use the tones on your skin to guide you. Use a creamy brush that is similar to the natural flush of your skin. The tone of your lip can also guide you. Have you ever seen those movies where the man stares nowhere else, but the woman's eyes? This can be your experience as well.
Open up your eyes by using dark brown or brown mascara to lengthen and curl those eyelashes.
Open up your eyes by using dark brown or brown mascara to lengthen and curl those eyelashes. This tip will also give you the opportunity to take a break from applying your usual black mascara. Finish off the look by using lip gloss that is one shade brighter than the natural appearance of your lips. It would be best if you went for a color-adjusting gloss, which changes its shade to match your skin tone, as Denise Del Russo, a makeup artist in New York advises.
How to Apply Makeup for Day, Evening or Night
It is the morning of your job interview and even though you're confident about your outfit, your makeup gives you cold feet. Do not worry. The trick is to do everything in moderation.
Don't attract so much attention to your face that you fail to look professional.
Don't attract so much attention to your face that you fail to look professional.
Use the same foundation as your skin tone. Here, I assume that you have already done your daily facial regimen.
Use a darker blush on the cheekbones and the facial areas that needs enhancing.
You can use a brown eyeliner to enhance the eye while using clear mascara to enhance the lashes. If you would like to be a little dramatic , you can create a simple cat eye.
Use a lip gloss that is a shade lighter than the natural lip color or tone. If you like colors, you can use go for a red lipstick or a pink lip gloss. However, ensure that the other colors you are wearing will match your overall look.
Assuming you have a date on the same day you have this job interview and you do not have a lot of time to get a professional to do your makeup, the transition is easy.
Do not be afraid to make bold choices. Use a brighter blush to highlight your bones and enhance the cat eye. If you want to be more dramatic, change the cat-eye into a smoky eye.
Wear a bold lip color rather than sticking to the simple lip gloss you had worn during the interview.
Darken your eyelashes and add a darker eyeliner.
Overall, bold lips and deeper shades on the eyes will easily transition you from a day look into an evening or night look.
Applying Makeup Despite Busy Schedule
You only have five minutes to apply your morning makeup before dashing to the door and even less to go into a night look from a day look. But How?!
Here's how to tackle these effortlessly:
Trick 1: The 2 Second Look 
If you are about to get out of the house, rinse and then apply a moisturizer. Apply the foundation.
However, only apply in the needed area to create an even tone. Since you don't have all day to be creative, apply brown or black mascara.
It will not only open up those eyes, but it will also make you look fresh even if you pulled an all-night.
One more thing: Apply Blush on the cheek apples and make sure that you blush towards the eyes
Trick 2: Lightening up your Look
Lighten up. Use lightweight liquid foundations as opposed to pressed powders. The latter usually settles on wrinkles, hence emphasizing the flaws on the skin. Avoid smearing the foundation on the eye area. It is best to use a powder to prevent the foundation from getting in the unwanted areas. Also, use a foundation brush or a pad when applying.
Trick 3: Opening your Eyes
Let the eyes open: Applying mascara can go a long way in making you look younger than you are. When you use the mascara to curl and lengthen those eyelashes while using a dark eyeliner at the waterline, you open up the eyes and make them look youthful.
Trick 4: Looking Warm
Look Warm. If you have dull skin, do not use matte or nude lipstick, as this will only worsen the dullness. Try to use neutral rose on the cheek apples as well as the lips. It will bring life into your being by brightening that dull look.
Trick 5: Making Your Lip Pop.
Trace that Lip. As you grow older, the natural lip-line tends to age, which can cause the lipstick to bleed. To prevent such problems, trace your lip outline by using a clear lip liner.
How to Look Healthy Everyday
Have you ever looked at a person who got their makeup done by the best professional in the market but they still looked awful?
Well, it was not the professional's fault. Mostly, it was their skin's fault. Unhealthy skin will make you look bad even if all the make in the world was used on it. There are various tips that you can embrace to make your skin not only look healthy, but be healthy as well.
Unhealthy skin will make you look bad even if all the make in the world is.
Drink water: I know this has become a cliche. However, it is as effective as any other healthy skin advice in the market today. Take at least two liters or eight glasses of water daily. The water helps the skin to keep its elasticity and detoxify.
Establish a skin cleansing regimen or routine. This will include washing the face, toning and moisturizing it daily. Ensure that you are using the products that suit your skin in case you have a dry, normal or oily skin. If you are one who keeps on traveling, from one location to another, search for brands available in many locations across the globe such as Nivea and Maybelline. They are not only high quality, but they are effective and available.
Make sure that you thoroughly take care of your face at least once in every three weeks or 21 days. This will include doing a facial scrub, steaming, applying a mask, toning and moisturizing the face. Likewise, use products that suit your skin type.
Eat healthy. The skin's health emanates from within the body. Take foods that rejuvenate the skin cells, hence renewing its elasticity. Other than fruits and vegetables, there are other foods that have nutrients, which benefit the skin. Consult your nutritionist or research about them.
How to Look Flawless
Never pick acne or pimples, especially when they appear on your face. Wait for them to run their course. When you pick them, you end up creating 'contours' on you face, which makes it difficult to have that flawless look.
When working on the cheeks, bring the contour shade all the way into the hairline. The co-founder and creative director at ISH, Joey Maalouf says that this will allow you to have a flawless look.
The most obvious thing should not be ignored. Lauren Urasen, a makeup artist, says that it is important to sharpen a pencil every time you want to create a super-precise overline. The Smashbox Always Sharp Lip Liner is convenient for the people who constantly forget where they last left their sharpener.
Mally Roncal, a makeup artist, states that it is advisable to use a concealer brush rather than your fingers when applying the concealer. This is because the bristles will get into a blemish's crevice better than your fingers.
Use shadow shields (half moon shaped cotton rounds) when creating a smoky eye. They will help the contents from spilling onto unwanted areas. They work by being stuck under the eyelids. You should remove them when done.
To get that plump lip without dealing with the sticky substance or a wet look all day long, apply the plumping gloss like a mask and let it stay for ten minutes. This will activate the plumping characteristic. Wipe it off and then wear the lipstick of your choice.
I know that you have been applying your mascara from the root to the tip of the lashes since you discovered the wonders of mascara. Although this is not a wrong method, applying it using the opposite approach will allow you to create drama, volume and length on the lashes. Ensure that you apply a double coat of the mascara to gain the maximum outcome.
Exfoliate the lip skin before applying lipstick, lip gloss or any other product. You can use the do-it-yourself home products (brown sugar, honey and lemon juice) to achieve this goal or you can use brand scrubs such as Bliss Fabulips. The outcome resembles, baby-soft lips, which allow you to enhance that plump you need.
How to Score on Budget Products (Alternative to High-end of DIY)
Who said you cannot look your best even when you have a very tight budget? These tips will allow you to remain glamorous without buying goods on credit on breaking the bank.
It's all about the brush: The price of some products such as mascara is highly vested in the brush. Ensure that you find a brush you love and clean it when the original product runs out. Use the brush in a cheaper product and you will still experience the same results. Most mascara bottles have a universal size so fitting the brush will not be a problem.
Take advantage of the samples: Many makeup shops offer samples of makeup products, even if they are the most expensive products in the market. You can go to your local shop and ask for a sample of your favorite makeup product, which is usually free and enjoy it before they know what you are up to.
Search for Offers: There are brands such as Lush, Kiehl and M.A. C, which give their customers reduced prices when they return empty bottles of products they intend to buy. Watch out for such offers.
Befriend Dupes:. Dupes are products which have similar content, but vary in packaging and branding. In most cases, people usually pay for the latter two (packaging and branding). Use Google to identify dupes so that you can pay the best price for a product. For example, instead of buying Diorshow, which is about 27.50, buy Voluminous Carbon Black from L'Oreal Paris ($5.89). The Velevet lip crayon from Sonia Kashuk is at $7.99 while the Velvet matte lip pencil from NARS sells at $26.
Learn to use Substitutes: Try to learn contents of a makeup product and identify whether they are available at your local store in a cheaper and different form. For instance, cinnamon has been identified as the main component that is making lip plumping products become effective. You can go to your local store and buy cinnamon oil for a few bucks and reap the same outcome as though you were using a high-end lip plump brand.
Makeup Tips for Key Occasions
When going to work or for a job interview, you do not want to look like you are going out with your girlfriends. Similarly, going on a date or ballroom event requires you to apply different makeup from what you would apply when going to a wedding during the day.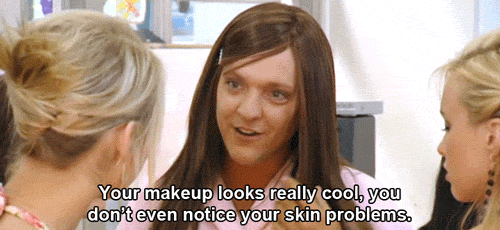 Wok or Office Makeup
Instead of using foundation, use a cream to avoid applying too much foundation. The Makeup Forever HD Cream Blush will work for you.
Use a soft brown or plum color onto the eyelid and into the crease. A Maybelline product will work for you.
Use a peach or neutral pink lipstick instead of using gloss that will make you look like you are drooling. The E. l.f Essential Lipstick is Effective.
Refrain from doing nail art on your nails. Apply neutrals or soft pinks. If you want creativity, you can also work with deep blues, reds and soft pastel.
Red-carpet Event
Use navy liner rather than black to create a cat eye.
Use a concealer to outline the lips and then apply lipstick using a brush. You can go for a red lip or another bold color.
On the cheekbones, apply airbrushed highlighter and decolletage to achieve a sculpted look.
To avoid makeup creasing, treat the under-eyes with a creamy eye and blend the cream eyeshadow along the waterline and on lids. You will get a gilded look.
Do not forget to dust blush along the hairline.
Night Out
The classic smoky eye will transform your normal day look into a night out look instantly.
Thicken and lengthen your lashes by adding another darker coat of mascara.
You can also apply glitter shadows and thicker eyeliner if you want to achieve a dramatic look, especially if it is a night out with your girlfriends.
Use a bold color on your lips to achieve that bold look that will tell everyone you are ready to take charge, let go and enjoy yourself .
Makeup Tips for Different Skin Types
Dry Skin
Use oil-based cream and liquid foundations.
Use a sugar and honey homemade scrubber for your skins. the honey will lock in the moisture to avoid flaking or cracking.
Do no use long wearing formulas or matte lipsticks.
Dana Chasen, a Boston makeup artist, says that there is no need of long wearing if your skin dries or flakes.
Moisturize daily and gently exfoliate weekly as part of your routine.
Oily Skin
Use a moisturizer that has Hyaluronic acid. It balances the oil, hence allowing the makeup to settle.
Use foundations that claim to mattify and have long wear. while avoid those that have the term luminous, as Amanda Rodriquez, an Urban Decay makeup artist states.
Use HD Finishing Powder or blotting papers to control the oily effect.
Normal Skin
This does not need any special attention other than the usual makeup application explained in earlier sections. Do not forget to moisturize and engage in a healthy skincare routine. Do you have a favorite or some of your other tips we've missed, let us know in the comment below.